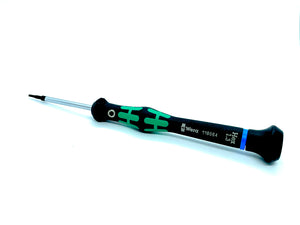 Wera 2054 Kraftform Micro Electronics Precision Hex Screwdriver
Exact Tool for your Billet Box Screws!
Tip size: HexPlus 1.3mm
Blade length: 40mm (1-9/16")
Overall length: 137mm
Wera's Hex-Plus design helps to keep the screw head in tact with narrow contact surfaces. Standard hex designs tend to round out the screw head.
Designed to reduce the fastening time and cost per screw connection
The spinning cap and the thin profile areas allow for very rapid twisting, and you won't have to readjust your grip.
Hand support on convex/concave cap offers both an easy turning action and comfortable hand rest
Wera Black Point tip and hardening process guarantee long service life and increased corrosion protection
Anti-roll protection stops screwdrivers from rolling away