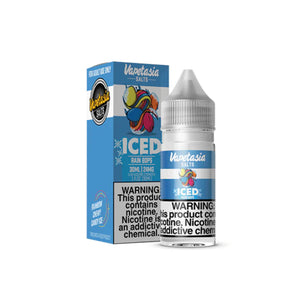 Vapetasia Salts Killer Sweets Iced Rain Bops 30ml Synthetic Nicotine E-Juice
Vapetasia Salts Killer Sweets Iced Rain Bops burst with rainbow flavors and a hint of menthol. Each puff offers a different flavor from the spectrum. Because it was designed to taste as close to a rainbow vape as possible in nic salt blend, this blend will trick your taste buds into thinking you just ate an entire bag. It is available in 30ml unicorn bottles with varying nicotine strengths of 24mg and 48mg. It is a synthetic nicotine. The 50/50 vg/pg ratio will produce a light to medium density vapor with good flavor and a light to medium throat hit. 
Liquid Details:

Brand: Vapetasia

Flavor: Killer Sweets Iced Rain Bops
Nicotine Type: Nicotine Salts
Bottle Size: 30ml
Nicotine Levels: 24mg / 48mg
VG/PG: 50/50
WARNINGS:
CALIFORNIA PROPOSITION 65 - Warning: This product contains nicotine, a chemical known to the state of California to cause birth defects or other reproductive harm.
Warning: This product is not meant for use in devices that reach sub-ohm resistance. We recommend this liquid to be used in pod-based, closed systems devices, and ultra low-output atomizers/mods. Every salt-based nicotine e-juice contains significantly higher levels of nicotine per milliliter, optimal for beginners or experienced vapers looking for a travel-friendly experience.