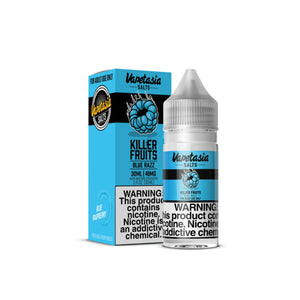 Vapetasia Salts Killer Fruits Blue Razz 30ml Synthetic Nicotine E-Juice
A burst of tart blueberries and fresh raspberries makes the Blue Razz a flavorful delight. The synthetic nicotine e-juice comes in a 30ml bottle and is available in 24mg and 48mg strengths.
Liquid Details:
Brand: Vapetasia
Flavor: Killer Fruits Blue Razz
Nicotine Type: Nicotine Salts
Bottle Size: 30ml
Nicotine Levels: 24mg / 48mg
VG/PG: 50/50
WARNINGS:
CALIFORNIA PROPOSITION 65 - Warning: This product contains nicotine, a chemical known to the state of California to cause birth defects or other reproductive harm.
Warning: This product is not meant for use in devices that reach sub-ohm resistance. We recommend this liquid to be used in pod-based, closed systems devices, and ultra low-output atomizers/mods. Every salt-based nicotine e-juice contains significantly higher levels of nicotine per milliliter, optimal for beginners or experienced vapers looking for a travel-friendly experience.