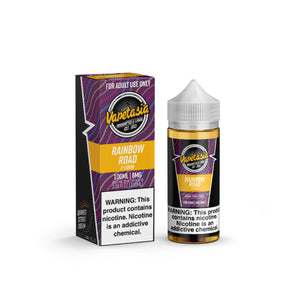 Vapetasia Rainbow Road 100ml E-Juice
Rainbow Road
 by Vapetasia is literally like traveling down a road of scrumptious fruits and mouthwatering flavors. You'll experience the delicious taste of ripened berries mixed with tangy citrus. Each hit of 
Rainbow Road 
is like biting into rainbow rings of juicy strawberries with citrus sweetness in the background. On the inhale, you'll take in notes of strawberry, and on the exhale you'll release the smoothness of citrus fruit that you love!
Liquid Details:

Brand: Vapetasia
Flavor: Killer Sweets Rainbow Road
Nicotine Type: Freebase
Bottle Size: 100ml
Nicotine Levels: 3mg / 6mg
VG/PG: 70/30
Note: This Flavor is now formulated with Tobacco-Free Nicotine, synthetic nicotine not derived from tobacco leaves. This may result in a different experience as TFN can reduce the harshness profile typically in regular E-liquids
.
CALIFORNIA PROPOSITION 65 - Warning: This product contains nicotine, a chemical known to the state of California to cause birth defects or other reproductive harm.