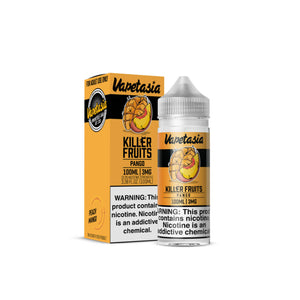 Vapetasia Killer Fruits Pango 100ml Synthetic Nicotine E-Juice
Killer Fruits Pango by Vapetasia captures the taste of luscious mangoes and sweet pineapples creating an exclusive blend of flavors. It is available in 100ml bottle sizes of varying nicotine strengths - 0mg, 3mg, 6mg
Liquid Details:

Brand: Vapetasia
Flavor: Killer Fruits Pango
Nicotine Type: Freebase
Bottle Size: 100ml
Nicotine Levels: 3mg / 6mg
VG/PG: 70/30
Note: This Flavor is now formulated with Tobacco-Free Nicotine, synthetic nicotine not derived from tobacco leaves. This may result in a different experience as TFN can reduce the harshness profile typically in regular E-liquids
.
CALIFORNIA PROPOSITION 65 - Warning: This product contains nicotine, a chemical known to the state of California to cause birth defects or other reproductive harm.