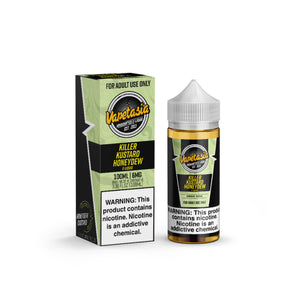 Vapetasia Honeydew Killer Kustard 100ml E-Juice
Honey Dew Killer Kustard by Vapetasia is the creamy, delicious taste of custard dessert mixed with a sweet honeydew delight. Each hit of Honey Dew Killer Kustard is like a slice of Heaven as you indulge in subtle hints of melons and citrus, along with a light touch of custard in the background. On the inhale, you'll take in notes of custard and "melon-y" flavors. On the exhale, you'll release the smoothness of the custard that you love! 
Liquid Details:

Brand: Vapetasia
Flavor: Honeydew Killer Kustard
Flavor Profile: Honeydew / Custard 
Nicotine Type: Freebase
Bottle Size: 100ml
Bottle Type: Chubby Gorilla
Nicotine Levels: 0mg / 3mg / 6mg
VG/PG: 70/30
CALIFORNIA PROPOSITION 65 - Warning: This product contains nicotine, a chemical known to the state of California to cause birth defects or other reproductive harm.