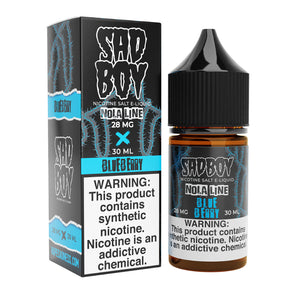 SadBoy NolaLine Blueberry Synthetic Nicotine 30ml Salt E-Juice
Sadboy Nolaline Blueberry Synthetic Nicotine comes in a chubby bottle with 30ml of salt E-Juice. This Salt E-Juice has a balanced 50/50 VG/PG ratio to make the vaping experience more enjoyable. Blueberry Flavor tastes like breakfast and will blow your taste senses away.
Liquid Details:

Brand: SadBoy
Flavor:

NolaLine Blueberry
Flavor Profile: Blueberry Granola
Nicotine Type: Nicotine Salts
Bottle Size: 30ml
Bottle Type: Chubby Gorilla
Nicotine Levels: 28mg / 48mg
VG/PG: 50/50
CALIFORNIA PROPOSITION 65 - Warning; This product contains nicotine, a chemical known to the state of California to cause birth defects or other reproductive harm.