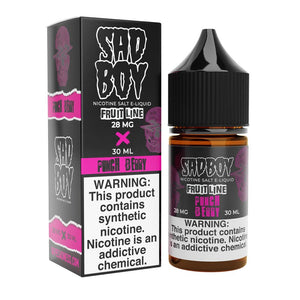 SadBoy FruitLine Punch Berry Synthetic Nicotine 30ml Salt E-Juice
A well-rounded flavor with berries, tart lemons, delicious raspberries, and tops all that off with a lip puckering sour taste. The perfect combination of sour and Sweet just like you.
This flavor is a nicotine salt infused e-Liquid formulated for POD SYSTEMS and other LOW POWER devices.
DO NOT USE with RDA's or sub-ohm tanks and devices.
Liquid Details:

Brand: SadBoy
Flavor: FruitLine Punch Berry
Nicotine Type: Nicotine Salts
Bottle Size: 30ml
Bottle Type: Chubby Gorilla
Nicotine Levels: 28mg / 48mg
VG/PG: 50/50
CALIFORNIA PROPOSITION 65 - Warning; This product contains nicotine, a chemical known to the state of California to cause birth defects or other reproductive harm.