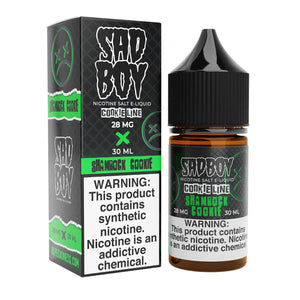 SadBoy CookieLine Shamrock Cookie Synthetic Nicotine 30ml Salt E-Juice
Sadboy Shamrock Cookie is a 
melt-in-your-mouth Shamrock gooey butter cookie at its finest and from scratch. Buttery, light and tender-crumb, flavored with pure cool mint extract and sweetened just right for that classic Shamrock flavor. This Festive E-Juice is perfect for spring and St.Patrick's Day...Or in this case, EVERY DAY!
Liquid Details:

Brand: SadBoy
Flavor:

 SadBoy Tear Drops - Shamrock Cookie
Flavor Profile:

Mint / Cookie / Sweet / Gooey
Nicotine Type: Nicotine Salts
Bottle Size: 30ml
Bottle Type: Chubby Gorilla
Nicotine Levels: 28mg / 48mg
VG/PG: 50/50
CALIFORNIA PROPOSITION 65 - Warning; This product contains nicotine, a chemical known to the state of California to cause birth defects or other reproductive harm.