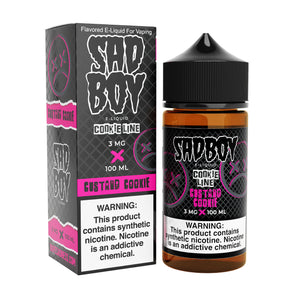 SadBoy CookieLine Custard Cookie Synthetic Nicotine 100ml E-Juice
SadBoy Custard Cookie is a perfect mixture of custard and cookies! The custard comes off strong and rich, but doesn't leave behind any of the signature warm cookie crumble we have come to enjoy. 
Liquid Details:
Brand: SadBoy
Flavor: Custard Cookie 
Flavor Profile: Cookie / Custard / Sweet
Nicotine Type: Freebase
Bottle Size: 100ml
Bottle Type: Chubby Gorilla
Nicotine Levels: 0mg / 3mg / 6mg
VG/PG: 70/30
CALIFORNIA PROPOSITION 65 - Warning; This product contains nicotine, a chemical known to the state of California to cause birth defects or other reproductive harm.