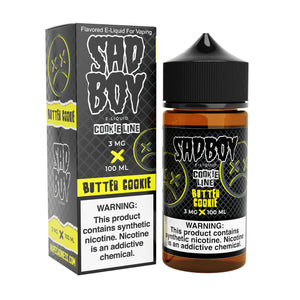 SadBoy CookieLine Butter Cookie Synthetic Nicotine 100ml E-Juice
SadBoy Butter Cookie is a flawless mix of rich flavors combining a classic short bread with the ultimate classic fruit...Lemon. This flavor is on the top of any shelf across the nation and if it's not, well they just don't understand perfection in a bottle. 
Liquid Details:
Brand: SadBoy
Flavor: Butter Cookie 
Flavor Profile: Cookie / Lemon / Sweet
Nicotine Type: Freebase
Bottle Size: 100ml
Bottle Type: Chubby Gorilla
Nicotine Levels: 0mg / 3mg / 6mg
VG/PG: 70/30
CALIFORNIA PROPOSITION 65 - Warning; This product contains nicotine, a chemical known to the state of California to cause birth defects or other reproductive harm.