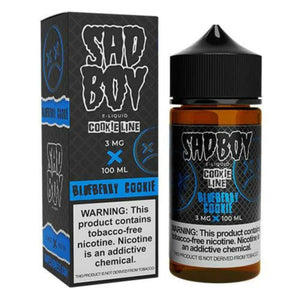 SadBoy CookieLine Blueberry Cookie Synthetic Nicotine 100ml E-Juice
SadBoy Blueberry Jam Cookie is a delectable delight with blueberry jam basically bursting out of the bottle, the hard part is how the cookies will follow. Well sure enough they do, SadBoy helps us enjoy the real flavor of blueberries and cookies like we have never before. The buttery cookie mixes perfectly with the strawberry jam and sets this flavor far apart from all the others. 

Liquid Details:
Brand: SadBoy
Flavor: Blueberry Jam Cookie 
Flavor Profile: Cookie / Blueberry Jam / Sweet
Nicotine Type: Freebase
Bottle Size: 100ml
Bottle Type: Chubby Gorilla
Nicotine Levels: 0mg / 3mg / 6mg
VG/PG: 70/30
CALIFORNIA PROPOSITION 65 - Warning; This product contains nicotine, a chemical known to the state of California to cause birth defects or other reproductive harm.