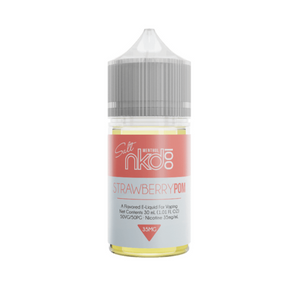 Naked 100 Salt Strawberry Pom 30ml E-Juice
Strawberry Pom by Naked 100 Salt is a delicious blend of berry, kiwi, pomegranate and a hint of ice cold menthol. Don't worry about getting a real Strawberry Pom though. You'll only enjoy the deliciousness of the fruity blends and the hit of menthol as you vape. This E-Liquid satisfies your sweet fruit craving along with your desire to be sensationally cooled. 
* Note: This E-liquid is designed for pod systems and similar low power devices.

Liquid Details:
Brand: NKD 100
Flavor: Salt Strawberry Pom
Flavor Profile: Berry / Kiwi / Pomegranate
Nicotine Type: Nicotine Salts
Bottle Size: 30ml
Bottle Type: Chubby Gorilla
Nicotine Levels: 35mg / 50mg
VG/PG: 50/50
CALIFORNIA PROPOSITION 65 - Warning; This product contains nicotine, a chemical known to the state of California to cause birth defects or other reproductive harm.