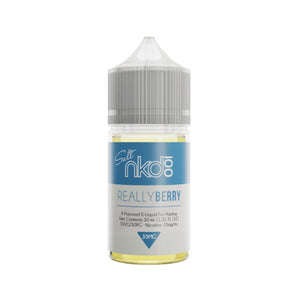 Naked 100 Salt Really Berry 30ml E-Juice
Really Berry
 by Naked 100 Salt
 is just that! It's a flavorful combination of savory blueberries and juice-dripping blackberries. This berry Heaven will have you inhaling distinct flavors of each fruit with hints of the nicotine you love. Get ready to be surrounded by an array of berry-luscious goodness with a nicotine kick!
** Note: This E-liquid is designed for pod systems and similar low power devices.

Liquid Details:
Brand: NKD 100
Flavor: Salt Really Berry 
Flavor Profile: Blueberry / Blackberry / Fruit
Nicotine Type: Nicotine Salts
Bottle Size: 30ml
Bottle Type: Chubby Gorilla
Nicotine Levels: 35mg / 50mg
VG/PG: 50/50
CALIFORNIA PROPOSITION 65 - Warning; This product contains nicotine, a chemical known to the state of California to cause birth defects or other reproductive harm.