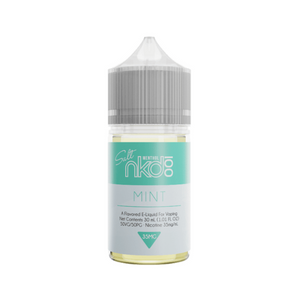 Naked 100 Salt Mint 30ml E-Juice
Naked 100 Salt's Mint is the pinnacle of salt nicotine today, taking frozen mint leaves, and icy menthol and combining them to create what you would consider to be from the arctic. Mint revitalizes the tongue and hits the throat with a chilling but satisfying feeling. 
* Note: This E-liquid is designed for pod systems and similar low power devices.

Liquid Details:
Brand: NKD 100
Flavor: Salt Mint
Flavor Profile: Mint leaves/Menthol Ice
Nicotine Type: Nicotine Salts
Bottle Size: 30ml
Bottle Type: Chubby Gorilla
Nicotine Levels: 35mg / 50mg
VG/PG: 50/50
CALIFORNIA PROPOSITION 65 - Warning; This product contains nicotine, a chemical known to the state of California to cause birth defects or other reproductive harm.