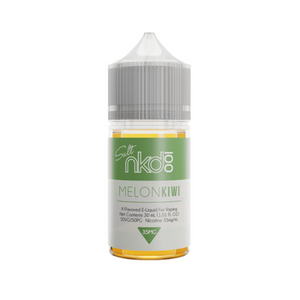 Naked 100 Salt Melon Kiwi 30ml E-Juice
It's never too late to get the "green thumb" and experience the best green fruits that nature has to offer. Too busy to learn now? No worries. Naked 100 Salt has you covered. The E-Liquid Salt 
Melon Kiwi 
provides a rush of juicy green fruits to your taste buds. With flavors of kiwi, honeydew melon and green apple, your friends will be green with envy by the flavors that Salt 
Melon Kiwi
 has to offer. Every inhale and exhale is satisfying enough to vape all day or even to experience a midday pick-me-up. 
* Note: This E-liquid is designed for pod systems and similar low power devices.

Liquid Details:
Brand: NKD 100
Flavor: Salt Melon Kiwi
Flavor Profile: Kiwi / Honeydew Melon / Green Apple
Nicotine Type: Nicotine Salts
Bottle Size: 30ml
Bottle Type: Chubby Gorilla
Nicotine Levels: 35mg / 50mg
VG/PG: 50/50
CALIFORNIA PROPOSITION 65 - Warning; This product contains nicotine, a chemical known to the state of California to cause birth defects or other reproductive harm.