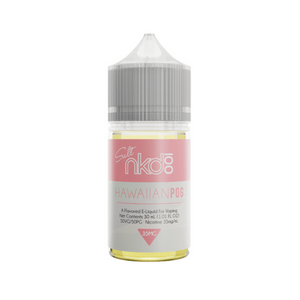 Naked 100 Salt Hawaiin pog 30ml E-Juice
Naked 100 Salt Hawaiin Pog is tropical goodness in E-liquis form. Passion fruit, orange, guava and salt nicotine are now all in one bottle for a delicious blend of tropical fruits straight to your mod! You'll vape individual flavors of each fruit giving you an exotic feeling all day long. 
** Note: This E-liquid is designed for pod systems and similar low power devices.
Liquid Details:
Brand: NKD 100
Flavor: Salt POG
Flavor Profile: Passion Fruit / Orange / Guava / Tropical
Nicotine Type: Nicotine Salts
Bottle Size: 30ml
Bottle Type: Chubby Gorilla
Nicotine Levels: 35mg / 50mg
VG/PG: 50/50
CALIFORNIA PROPOSITION 65 - Warning; This product contains nicotine, a chemical known to the state of California to cause birth defects or other reproductive harm.