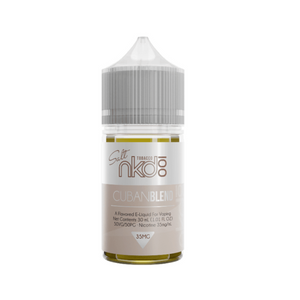 Naked 100 Salt Cuban Blend 30ml E-Juice
Cuban Blend
 by Naked 100 Salt. 
This E-Liquid has a flavorful, medium-bodied taste. It combines  the best flavors from Caribbean tobacco. 
Cuban Blend
 incorporates the smoothness you love from rich tobacco and the aroma of the finest Cuban cigar.
* Note: This E-liquid is designed for pod systems and similar low power devices.

Liquid Details:
Brand: NKD 100
Flavor: Salt Cuban Blend
Flavor Profile: Tobacco / Medium Body / Cuban Cigar
Nicotine Type: Nicotine Salts
Bottle Size: 30ml
Bottle Type: Chubby Gorilla
Nicotine Levels: 35mg / 50mg
VG/PG: 50/50
CALIFORNIA PROPOSITION 65 - Warning; This product contains nicotine, a chemical known to the state of California to cause birth defects or other reproductive harm.