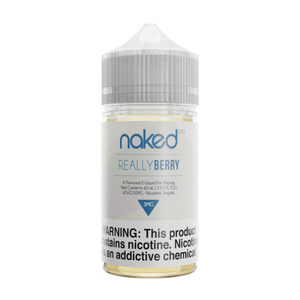 Naked 100 Really Berry 60ml E-Juice
If you're a lover of all things berry, Really Berry by Naked 100 is your one-stop-shop for the vaping flavor of a variety of delicious berries. This E-juice has the flavor of hand-picked blueberries and luscious blackberries. On every inhale you'll taste the combination of berries and on every exhale, there's the subtle taste of a zesty lemon sugar drizzle. It's the best of both worlds as the berries collide with the slight squeeze of its tangy counterpart. 
Liquid Details:

Brand: Naked 100
Flavor: Really Berry
Flavor Profile: Various Berries / Blueberry / Blackberry / Lemon
Nicotine Type: Freebase
Bottle Size: 60ml
Bottle Type: Chubby Gorilla Unicorn Bottle
Nicotine Levels: 0mg / 3mg / 6mg
VG/PG: 65/35
CALIFORNIA PROPOSITION 65 - Warning; This product contains nicotine, a chemical known to the state of California to cause birth defects or other reproductive harm.