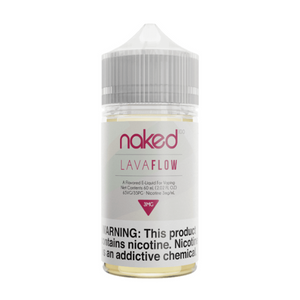 Naked 100 Lava Flow 60ml E-Juice
Volcanoes aren't the only Hawaiian-inspired pleasure. 
Lava Flow
 by Naked 100
 is a Hawaiian explosion of deliciousness! It's like drinking the blend of fresh strawberries and juicy pineapples from a cup made out of coconut. 
Lava Flow
 embodies the fullness of a delicious juice that can't be replicated. Every vape has a balanced flavor without the overpowering of any one fruit. No need to book a flight just yet! Escape all day into ecstasy while you inhale delectable clouds of smoke
Liquid Details:

Brand: Naked 100
Flavor Profile:

Strawberry / Pineapples / Coconut
Nicotine Type: Freebase
Bottle Size: 60ml
Bottle Type: Chubby Gorilla Unicorn Bottle
Nicotine Levels: 0mg / 3mg / 6mg
VG/PG: 65/35
CALIFORNIA PROPOSITION 65 - Warning; This product contains nicotine, a chemical known to the state of California to cause birth defects or other reproductive harm.