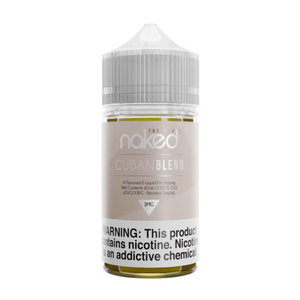 Naked 100 Cuban Blend 60ml E-Juice
Cuban Blend
 by Naked 100.
 This E-Liquid has a flavorful, medium-bodied taste. 
Cuban Blend
 incorporates the smoothness you love from rich tobacco and the aroma of the finest Cuban cigar. You'll bask in the aroma of tobacco leaves while you're vaping with clouds of Cuban scents.
Brand: Naked 100

Flavor: Cuban Blend Tobacco
Flavor Profile:

Tobacco / Medium Body / Cuban Cigar
Nicotine Type: Freebase
Bottle Size: 60ml
Bottle Type: Chubby Gorilla Unicorn Bottle
Nicotine Levels: 0mg / 3mg / 6mg
VG/PG: 65/35 
CALIFORNIA PROPOSITION 65 - Warning; This product contains nicotine, a chemical known to the state of California to cause birth defects or other reproductive harm.