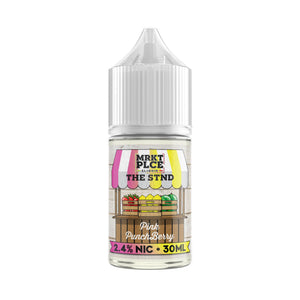 MRKTPLCE The Stnd Pink Punchberry Salt Nic 30ml E-Juice
Pink Punchberry Nicotine Salt by Mrktplce The Stnd features the flavors strawberry watermelon lemonade and lemonade. Nicotine levels of 24mg and 48mg are available in 30ml bottles. It comes in a 50/50 VG/PG ratio. In the end, there's a tinge of lime.
Juice Features:

Brand: MRKTPLCE
Flavor: Pink Punchberry
Nicotine Type: Nicotine Salts
Bottle Size: 30ml
Nicotine Levels: 24mg / 48mg
VG/PG: 50/50
CALIFORNIA PROPOSITION 65 - Warning; This product contains nicotine, a chemical known to the state of California to cause birth defects or other reproductive harm.