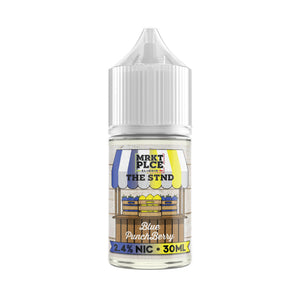 MRKTPLCE The Stnd Blue Punchberry Salt Nic 30ml E-Juice
MRKTPLCE Blue Punchberry Salts, Blue Punchberry Lemonade Nic Salt that comes in a 30ml chubby bottle is also available in 24mg and 48mg strengths. 50/50 PG/VG nicotine intensity Lemonade, blue raspberry, and lime flavor profiles Start your day off right with this colorful, sweet, and delicious Blue Punchberry smoothie.
Brand: MRKTPLCE

Flavor: Blue Punchberry
Nicotine Type: Nicotine Salts
Bottle Size: 30ml
Nicotine Levels: 24mg / 48mg
VG/PG: 50/50
CALIFORNIA PROPOSITION 65 - Warning; This product contains nicotine, a chemical known to the state of California to cause birth defects or other reproductive harm.