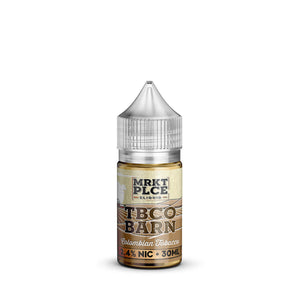 MRKTPLCE TBCO Barn Colombian Tobacco Salt Nic 30ml E-Juice
A full-bodied traditional western style tobacco with inspiration from the hills of Colombia.
It comes in 30 ML chubby bottles and nicotine options of 24mg and 48mg are offered to counter the nicotine urges of different individuals. It has a balanced VG/PG ratio of 50/50
Juice Features:

Brand: MRKTPLCE
Flavor: TBCO Barn Colombian Tobacco
Nicotine Type: Nicotine Salts
Bottle Size: 30ml
Nicotine Levels: 24mg / 48mg
VG/PG: 50/50
CALIFORNIA PROPOSITION 65 - Warning; This product contains nicotine, a chemical known to the state of California to cause birth defects or other reproductive harm.