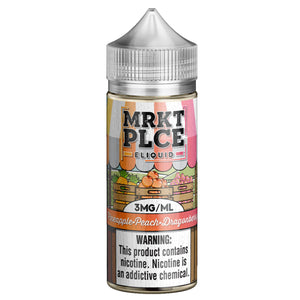 MRKTPLCE Pineapple Peach Dragonberry 100ml E-JuiceLiquid Details:

The MRKTPLCE Pineapple Peach Dragonberry E-JUICE comes in a 30ml Unicorn bottle with a plastic dripper and child-resistant cap that prevents any sort of unwanted spilling. It is filled with a delicious combination of zesty pineapples, sweet peaches, and luscious dragon fruits mixed with syrupy berries that resets your taste buds ideally. Plus, it is paired with 70/30 VG/PG strength and is available in multiple nicotine variants; 3mg and 6mg so that you can easily wean off your nicotine craving.
Brand: MRKTPLCE

Flavor:  - Pineapple Peach Dragonberry
Nicotine Type: Freebase
Bottle Size: 100ml
Nicotine Levels: 3mg / 6mg
VG/PG: 70/30
CALIFORNIA PROPOSITION 65 - Warning; This product contains nicotine, a chemical known to the state of California to cause birth defects or other reproductive harm.