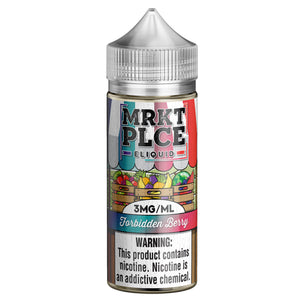 MRKTPLCE Forbidden Berry 100ml E-Juice
MRKTPLCE's latest formulation, the Forbidden Berry e-juice,
 offering delicious undertones of sweet berries and tropical fruits that rock your taste buds perfectly. An ideal e-juice for citrus fruit lovers, featuring a 100ml Chubby Gorilla bottle with 70/30 VG/PG formation that lets you enjoy hard-throat nicotine punches within every puff. It comes in two nicotine level choices 3mg and 6mg.
Liquid Details:

Brand: MRKTPLCE
Flavor:  -  Forbidden Berry
Nicotine Type: Freebase
Bottle Size: 100ml
Nicotine Levels: 3mg / 6mg
VG/PG: 70/30
CALIFORNIA PROPOSITION 65 - Warning; This product contains nicotine, a chemical known to the state of California to cause birth defects or other reproductive harm.