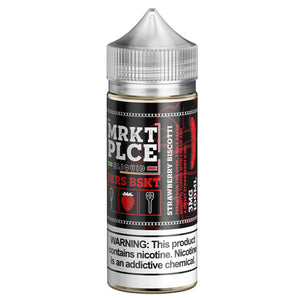 MRKTPLCE BKRS BSKT Strawberry Biscotti 100ml E-Juice
Strawberry Biscotti by MRKT PLCE E-liquid is inspired by the original Italian biscotti, which is recognized for its excellent crispy texture achieved by twice baking. By combining layers of strawberry icing, this outstanding flavor raises traditional biscotti to new heights. It comes in a 100ml chubby container with two nicotine strengths: 3mg and 6mg. The E-Juice features a 70/30 VG/PG ratio,
Liquid Details:

Brand: MRKTPLCE
Flavor: BKRS BSKT - Lemon Biscotti
Nicotine Type: Freebase
Bottle Size: 100ml
Nicotine Levels: 3mg / 6mg
VG/PG: 70/30
CALIFORNIA PROPOSITION 65 - Warning; This product contains nicotine, a chemical known to the state of California to cause birth defects or other reproductive harm.