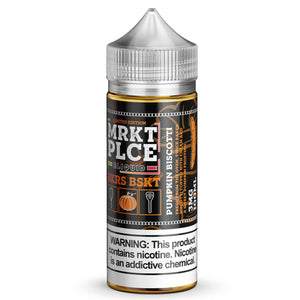 MRKTPLCE BKRS BSKT Pumpkin Biscotti 100ml E-Juice
Hot from the oven, twice-baked biscotti topped with cream and luscious pumpkin frosting. In 100 mL bottles, nicotine doses of 3mg and 6mg are offered. It features a 70/30 VG/PG ratio. The taste is the icing on the cake. 
Liquid Details:
Brand: MRKTPLCE
Flavor: BKRS BSKT - Pumpkin Biscotti
Nicotine Type: Freebase
Bottle Size: 100ml
Nicotine Levels: 3mg / 6mg
VG/PG: 70/30
CALIFORNIA PROPOSITION 65 - Warning; This product contains nicotine, a chemical known to the state of California to cause birth defects or other reproductive harm.