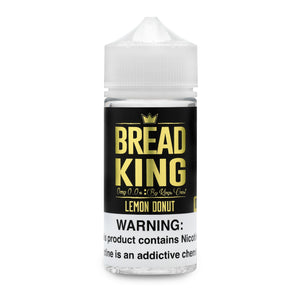 King's Crest King Line Bread King 100ml E-Juice
Bread King by King's Crest King Line is a refreshing flavor of lemon donuts that leaves a sweet aftertaste in the mouth. The Vape juice comes in a chubby bottle of 100ml which makes it very easy to refill the device. Also, it comes in two nicotine options - 3mg and 6mg for those who prefer nicotine in their vape juice. Moreover, the E-liquid comes in a VG/PG ratio of 70/30 for a sweeter taste and dense clouds.
Liquid Details:
Brand: Candy King
Flavor: King Line Bread King
Nicotine Type: Freebase
Bottle Size: 100ml
Bottle Type: Chubby Gorilla
Nicotine Levels: 3mg / 6mg
VG/PG: 70/30
CALIFORNIA PROPOSITION 65 - Warning: This product contains nicotine, a chemical known to the state of California to cause birth defects or other reproductive harm.