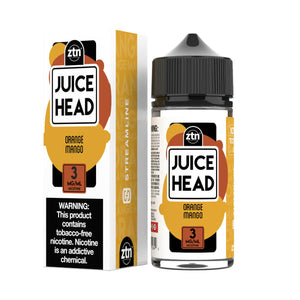 JuiceHead ZTN Orange Mango 100ml E-Juice
Juice Head ZTN Orange Mango is a pleasant fruit flavor with juicy ripe mango and succulent, sweet, aromatic orange made with synthetic nicotine. It is available  in 100ml chubby unicorn bottles with nicotine strengths of 0mg, 3mg and 6mg, letting you choose the nicotine level that's right for you. The 70/30 base of vegetable glycerin (VG) and propylene glycol (PG) is great for those looking for the most delectable e-liquid.
Juice Features:

Brand: Juice Head
Flavor: - Orange Mango
Nicotine Type: Freebase
Bottle Size: 100ml
Nicotine Levels: 0mg / 3mg / 6mg
VG/PG: 70/30
WARNINGS:

CALIFORNIA PROPOSITION 65 - Warning: This product contains nicotine, a chemical known to the state of California to cause birth defects or other reproductive harm.