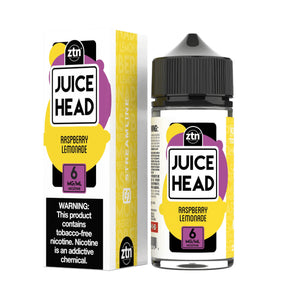 Juice Head ZTN Raspberry Lemonade 100ml E-Juice
The Juice Head ZTN Raspberry Lemonade E-Juice is an amazing blend of Raspberry and Lemonade. It comes in a 100ml chubby bottle making it very convenient for the user to refill their vape. It has a VG/PG ratio of 70/30 making it more dense and flavor clouds. To meet the daily nicotine quantity it comes in a nicotine strength of 35mg and 50mg. Moreover, Raspberry and Lemonade make a great combination.
Juice Features:
Brand: Juice Head
  Flavor: - Raspberry Lemonade
100mL Unicorn Bottle

PG: 30% VG: 70%
Formulation: Freebase Nicotine
Child Resistant Cap
Made in USA
Available Options:
0mg, 3mg, 6mg
WARNINGS:
CALIFORNIA PROPOSITION 65 - Warning: This product contains nicotine, a chemical known to the state of California to cause birth defects or other reproductive harm.