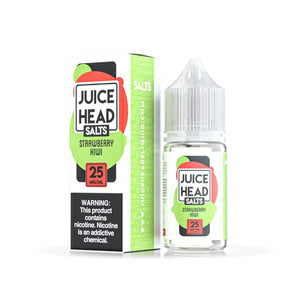 Juice Head Strawberry Kiwi Salts 30ml E-Juice
Juicehead's 
Strawberry Kiwi Salt is fresh ripe Strawberry combined with juicy Kiwis. This Juice Head E-juice flavor will have you in a maze tangled in rich Strawberry vines as you embrace the fresh breeze of sweet Kiwis. You'll wander through the excitement of juicy and sweet, but the adventure doesn't stop there. Just down the summer field is a creamy tart fountain flowing of lush flavor that mixes perfectly with the fresh Strawberries and sweet Kiwis.
Juice Features:

Brand: Juice Head
Flavor: Salt - Strawberry Kiwi Tart
Nicotine Type: Nicotine Salts
Bottle Size: 30ml
Nicotine Levels: 35mg / 50mg
VG/PG: 50/40
WARNINGS:

CALIFORNIA PROPOSITION 65 - Warning: This product contains nicotine, a chemical known to the state of California to cause birth defects or other reproductive harm.
Warning: This product is not meant for use in devices that reach sub-ohm resistance. We recommend this liquid to be used in pod-based, closed systems devices, and ultra low-output atomizers/mods. Every salt-based nicotine e-juice contains significantly higher levels of nicotine per milliliter, optimal for beginners or experienced vapers looking for a travel-friendly experience.