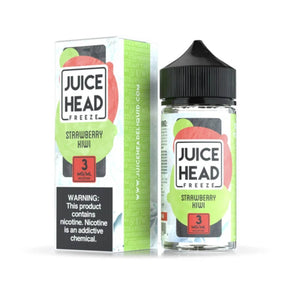 Juice Head Strawberry Kiwi Freeze 100ml E-Juice
Juicehead's 
Strawberry Kiwi is the sweet tang of juicy strawberries and fresh kiwi, exploding with puffs of sweet tart awesomeness with a hint of menthol. The exotic flavors swirled together in this divine combination has been a long-awaited burst of flavor that you've been craving all year long.
Juice Features:

Brand: Juice Head
Flavor: - Strawberry Kiwi Tart Ice
Nicotine Type: Freebase
Bottle Size: 100ml
Nicotine Levels: 0mg / 3mg / 6mg
VG/PG: 70/30
WARNINGS:

CALIFORNIA PROPOSITION 65 - Warning: This product contains nicotine, a chemical known to the state of California to cause birth defects or other reproductive harm.