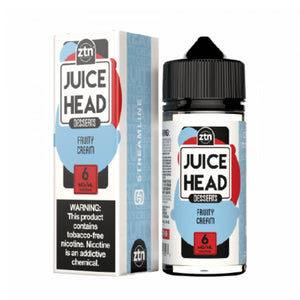 Juice Head Desserts ZTN Fruity Cream 100ml E-Juice
The Juicehead
 Desserts ZTN Fruity Cream E-juice
 features a proprietary blend of sweet berry medley and delish whipped cream. It is jammed in a 100ml Unicorn bottle and is paired with 70/30 VG/PG formation to mimic the smoking sensation ideally. It is a zero tobacco nicotine(ZTN) that is available in 0mg, 3mg, and 6mg of nicotine.
Juice Features:

Brand: Juice Head
Flavor: - Pineapple Fruity Cream
Nicotine Type: Freebase
Bottle Size: 100ml
Nicotine Levels: 0mg / 3mg / 6mg
VG/PG: 70/30
WARNINGS:

CALIFORNIA PROPOSITION 65 - Warning: This product contains nicotine, a chemical known to the state of California to cause birth defects or other reproductive harm.