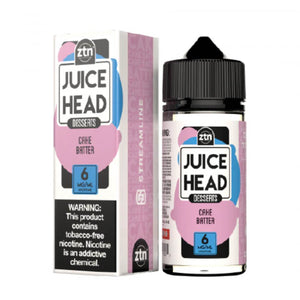 Juice Head Desserts ZTN Cake Batter 100ml E-Juice
The Juicehead
 Desserts ZTN Cake Batter vape juice
 is available in a 100 Unicorn bottle that offers hints of syrupy cake with toppings of tasty creamy frosting. It has a 70/30 VG/PG ratio that perfectly emulates the smoking sensation. Moreover, it is available in 0mg, 3mg, and 6mg of Nicotine levels to meet different types of nicotine appetites.
Juice Features:

Brand: Juice Head
Flavor: - Cake Batter
Nicotine Type: Freebase
Bottle Size: 100ml
Nicotine Levels: 0mg / 3mg / 6mg
VG/PG: 70/30
WARNINGS:

CALIFORNIA PROPOSITION 65 - Warning: This product contains nicotine, a chemical known to the state of California to cause birth defects or other reproductive harm.