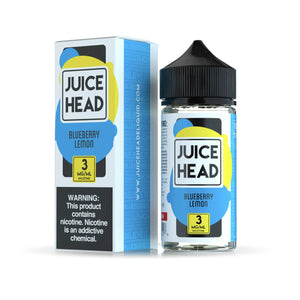 Juice Head Blueberry Lemon 100ml E-Juice
Juicehead's Blueberry Lemon is the sweet tang of juicy blueberries and fresh lemons, exploding with puffs of sweet tart awesomeness. The exotic flavors swirled together in this divine combination has been a long-awaited burst of flavor that you've been craving all year long. Go and grab a 100ml bottle of Juice Head's premium E-Juice,

Juice Features:

Brand: Juice Head
Flavor: - Blueberry Lemon
Nicotine Type: Freebase
Bottle Size: 100ml
Nicotine Levels: 0mg / 3mg / 6mg
VG/PG: 70/30
WARNINGS:

CALIFORNIA PROPOSITION 65 - Warning: This product contains nicotine, a chemical known to the state of California to cause birth defects or other reproductive harm.