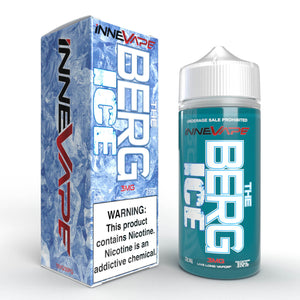 Innevape The Berg Ice 100ml E-Juice
Check out The Berg Ice by Innevape, featuring a sweet tangy blue slushie mixed with a refreshing blast of menthol in a synthetic nicotine formulation.

Note: This Flavor is now formulated with Tobacco-Free Nicotine, synthetic nicotine not derived from tobacco leaves. This may result in a different experience as TFN can reduce the harshness profile typically in regular E-liquids.
100mL Unicorn Bottle
Child Resistant Cap
70% VG 30% PG
Synthetic Nicotine Formulation
Made in USA
Available in 0mg, 3mg, 6mg
CALIFORNIA PROPOSITION 65 - Warning: This product contains nicotine, a chemical known to the state of California to cause birth defects or other reproductive harm.