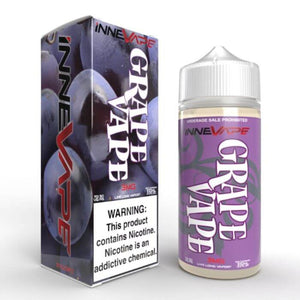 Innevape Grapevape 100ml E-Juice
The amazing Innevape Grapevape Ice feels like fresh grapes. sweet and sour flavor. The 100ml chubby bottle
 makes refilling very convenient. In order to meet the differing needs of individuals for nicotine, it provides two nicotine choices, 3mg, and 6mg. It has a VG/PG ratio of 70/30 for a flavor that is more potent and clouds that are denser.
Brand: Innevape

Flavor: Grapevape 
Nicotine Type: Freebase
Bottle Size: 100ml
Nicotine Levels: 3mg / 6mg
VG/PG: 70/30
CALIFORNIA PROPOSITION 65 - Warning: This product contains nicotine, a chemical known to the state of California to cause birth defects or other reproductive harm.