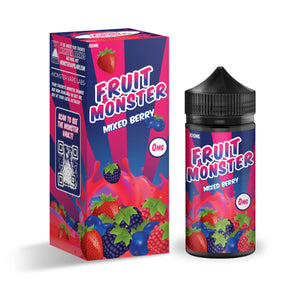 Fruit Monster Mixed Berry 100ml E-Juice
Jam Monster's Fruit Monster Mixed Berry vape juice, is crisp Blueberry tingles on each taste bud as its sugary taste sends you off to paradise. The raspberry and lemon give you that tangy and sweet flavor that lifts your spirits. Fruit Monster provides us an endless summer in a bottle. The Mixed Berry is a refreshing and delicious burst of flavor that invigorates our taste buds like a delicious smoothie on a hot summer day. It's really unlike any other E-liquid.
Brand: Jam Monster
Flavor: Fruit Monster -Mixed Berry
Flavor Profile: Strawberry / Raspberry  / Blackberry / Blueberry / Tart / Sweet
Nicotine Type: Freebase
Bottle Size: 100ml
Bottle Type: Chubby Gorilla
Nicotine Levels: 0mg / 3mg / 6mg
VG/PG: 75/25
CALIFORNIA PROPOSITION 65 - Warning: This product contains nicotine, a chemical known to the state of California to cause birth defects or other reproductive harm.